Happy Monday FUNday peeps!! Hope your weekend was as productive and mind boggling as mine was! NOT... I hope you got to enjoy the break from the chaos that happens during our week!!
I'm linking up once again with the lovely ms. carissa from
lowercase letters
for a Miscellany Monday!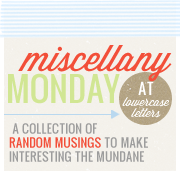 :: American Idol ::
I'm so disappointed at American Idol... rigging the results (I believe) to make Jessica one of the last two final contestants! WOMP!! Yea she's great, and her vocals are outta this world... but she just became boring. She wasn't taking any risks or making any differences! Now JOSHUA on the other hand branggg it... every single Wednesday he brought it... in each one of his performances. How can you let go of THIS talent?!?!
AHHHHHHH... BUT, one of my faves from the very beginning is still in it to win it (as Randy would say)... PHILLIP PHILLIPS!! Remember his
audition video
?!?! I remember quite clearly b/c it was one of my first posts on this mighty fine blog with his mighty fine self! Anyhoots, I'm rooting for Phillip and I just know he's gonna win... he's so unique, in his own zone, and handsome!! Watch this video and drool yourself!
::
Trident
::
Last week, I asked one of the coaches at work if he had a piece of gum, and bless his heart... he gave me an entire pack, brand spankin' new of my FAVE gum!!
:: Wedding Countdown ::
One month away
from making official-dicial in front of our loved ones in Maui wow-ee!! I can't wait to have my final defense (soon my friends... and before I take off to Maui!) and I can't wait to be in the sun and not have to worry about it going away!!
If you guys follow
Lauren Conrad's blog/website
, you should know that she had a fashion blogging contest. One that I made sure to vote on each time we were given an opportunity to do so! One of my daily reads was a contestant, Anna from
Fash Boulevard
, who actually won the contest!! Anna's sense of style is BANGIN! Makes me want to shop til I drop each time I look at her new outfit posts!! She totes knows how to accessorize to the max!! Anyhoots, she had her first guest blog posts on
LaurenConrad.com
last week, which I thoroughly enjoyed :) Check it out!
How was your weekend? What are you doing this mighty fine Monday FUNday morning? Linking up with
lowercase letters
??