Happy Monday Funday!! What seems like a rest-filled long weekend, we're back in action full force on this rainy cold Monday! Today, I'm linking up with Carissa at
lowercase letters
for a Miscellany Monday! I've seen this link up through my fellow bloggers, and thought it was super cute and really random (but meaningful)!! Basically, you just write random thoughts and share pictures or memories or whatever it be you want to share with us!
So here we go, giving it a shot on this first Monday in April!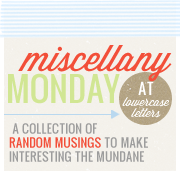 :: one ::
Amy's Bikini Bootcamp
starts back up this morning and I am oh so excited to get back into the groove of working out with my peeps... working out during Spring Break alone wasn't the same. Cardio was boring, and I missed my kickboxing!
:: two ::
I'm really gonna try and follow through with a photo a day APRIL challenge! I always remember late in the game, or I forget one day, and it's a "fohgettt aboutttit" attitude!
:: three ::
My awesome possom talented cousin Kyle went to the Pacific Island Talent Contest over the weekend, and made the TOP 12 out of 65 other musicians!! So proud of him, and his motivation to keep driving with music!! (and yes... he will be blessing us with his beautiful voice at our wedding!)
:: four ::
So happy this month marks the FIRST I'll be rollin in with sponsors on the regular (I hope!). Last month, I was ooberly excited to test the waters with my
first ever sponsor
, Kara @
Styled with Life
, and had oh so much fun having another blogger's face up on hea! I've met so many talented, lovely ladies through this bloggy blog world, and each gal has makes this entire blogging experience SO much more fun for me :) So watch out America... this month I've got more fab blogs to share with the world!
:: five ::
Most of you don't know this, but my mom is an active Army Reserves Soldier, and has been for going on 18 years this year! In 2010, she departed for Iraq and was deployed for one year. Although time has passed, and she is safe and sound back home, I will always be eternally grateful for her service and dedication to our country... for ALL of our soldiers who continually fight for our freedom, I am so blessed and thankful for you all! I will never forget that we have soldiers that are still fighting for us, despite the decrease in publicity of the war and our battles today. I love you Mom... for your hard work and fight... for being away from home when you have to be... for sacrificing your lifestyles so we are safe and at peace... for everything you do for me, our family and this country!