Happy Monday my peeps!! I hope you all had a superb Easter weekend :)
On this Monday FUNday, I'm linking up once again with Carissa at
lowercase letters
for Miscellany Monday!!
Last week
was my first time linking up with her and it was fun! At the end of the week, I really do have some random thoughts I don't post on... what a great way to share those randomness moments, right?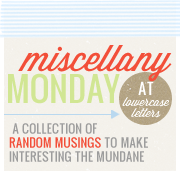 The one day last week that the sun shined, I hurried off to take the doggies out to the dog park, and stayed out for over an hour!! Needless to say they were pooped when they got home!! Gave me peace and quiet to work on my dissertation!
Moana
Marley
Bought the May issue of Glamour to support Lauren, and loveeeeeee the shots of her in her cute bathing suit!!
Church on
Easter Sunday
was amazing (as always), and a nice and easy breakfast at Panera Bread with my boo made it a perfect morning!
The sun is out, and I hope it stays out for the rest of my life here in Oregon!!
Have randomness pictures, thoughts, anything you'd like to share with us?? Link up with Carissa at
lowercase letters
!! Happy Monday!